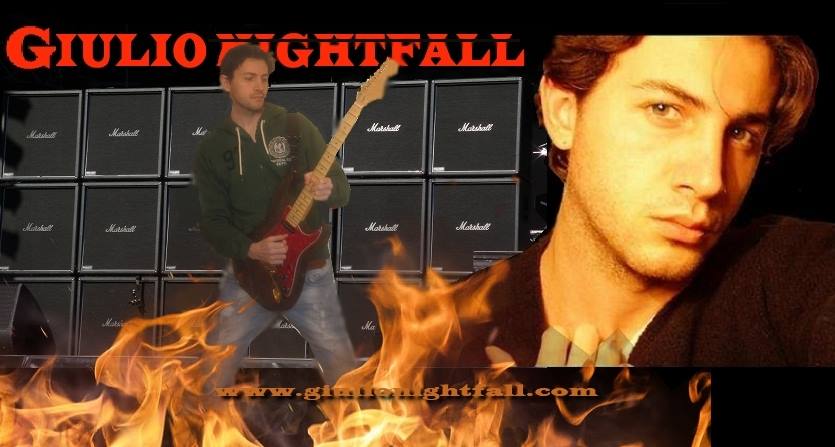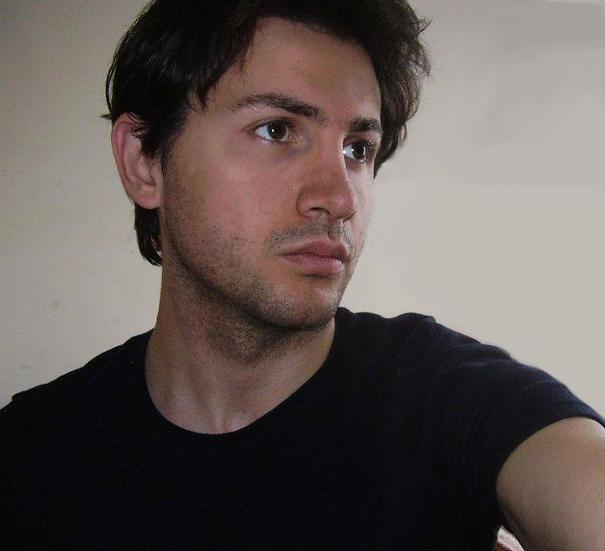 Giulio Nightfall is a composer, guitarist, singer, writer (musical education & novelist Thriller and Horror), lutist and inventor (when he was 11 he invented "Happy Cat System", as a lutist he invented "Fast Guitar Acoustic Building", Orchestral Acoustic Guitar " in the patent phase). Since he was a child he has shown a prodigious mind in the creative field and in works of genius.when he was 14 he started studying electric guitar, remaining the central fulcrum of the compositions. He has been an electric guitar teacher for 8 years.
The unmistakable style in which music alternates moments of sweetness and light-heartedness with dark and powerful moments of pure rock and metal. The contrast that generates music wrapped in a mystery of lights and darkness, retraces a path of perpetual dualism that the human being lives every day; where love often collides with hatred, sweetness with coldness, fragility with strength and tears with a smile.
Appreciated for his talent as a solo guitarist, reaching high playing speeds, mixing alternative picking technique, rapid sweep picking tapping, with moments of calm and expressiveness. Strong solo skills accompanied by an emotional guitar touch make it emerge becoming soon appreciated by various musicians
Subsequently he wrote poems and thriller novels.
Some numbers:
-The manuals and novels sold in Italy are about 5000 copies
- The discs sold in 2016 internationally are about 1000 copies
Discography :
-Luci e tramonti 2019
-Sweet dreams 2019
- Nothing else dreams 2019
-In the air tonight 2019
- The last goodbye 2019
- Brother 2019
-Too old to die Young now 2019
- Burn 2019
-mother 2019
- dont fear the reaper 2019
- The last goodbye 2019
-Fighters 2012( metal /hard rock strumentale solista )
-Flying on the Sea 2013( colonne sonore )
-Angels 2013( musica classica con chitarra elettrica / neoclassic )
-Guitar Solo Revelation 'Best Of' 2013( hard rock , rock metal , solista )
-Invincible 2014( colonne sonore , con genere di originalità propria)
-Voice of Passion 2014( pop , pop rock , cantato )
-Bad Truck 2013( stile colonne sonore)
-You've Broken Everything 2014( Hard Rock Singolo )
-Free Collection 2013 ( Best of di 5 tracce Gratuito )
-New Happy Blues-Rock Experience 2014(rock blues sperimentale)
For the realization of albums and some live he collaborated with many national and international artists.
Animator Johnny Frank Thomas made two animated music-video "Bad Truck" and "Jhonny b Goode"
The first manuals with construction technique for self-taught in a manual relating to the electric guitar in Italy were designed by Giulio Nightfall. He also creates a prototype of acoustic guitar
In 2016 the well-known publishing house Volontè & Co noted by Marco Volontè (ex Emi, Warner) Giulio joins the authors of Volontè & co. The didactic manual "Building an acoustic guitar ... starting from scratch!" Follows coming out in 2016 with the well-known publishing house Volonté & Co, a rapid self-buildable acoustic guitar prototype is invented in this manual.
He appears in several international magazines for the very evocative musical style and for the virtuous solos reproduced with self-made guitars: jamsphere magazine, fireworks magazine, and receives excellent criticism from the journalist Chuck Tylor (well-known American journalist for Billboard Magazine).
He recites and interprets several poems, including Alda Merini.
In 2019 he deals with some problems for eco-sustainable resolutions regarding the charging of electric cars on the road. Later he patented some projects.
Intelligence test enthusiast has an IQ of about 140!